On November 23, 2012 by
alison
With
5
Comments -
Uncategorized
We have a long history with Iittala's "Kekkerit" pattern, which was designed by Timo Sarpaneva for Iittala. Â A source from the 1970s calls Kekkerit (which, incidentally, means party in Finnish) "a robust, happy goblet," and we couldn't agree more. Â  Other than Iittala's Festivo candle holders, Kekkerit goblets are one of Iittala's most copied patterns.
Above, are Iittala's Kekkerit cordial glasses, which share the same form as the water goblets, but in miniature. Â These glasses are hefty and yet elegant, with the bowl of each goblet shaped like a snowball. Â Like all Iittala glassware, the original Kekkerit's are incredibly detailed. Â When you hold one in your hand, you can feel each individual facet in the glass.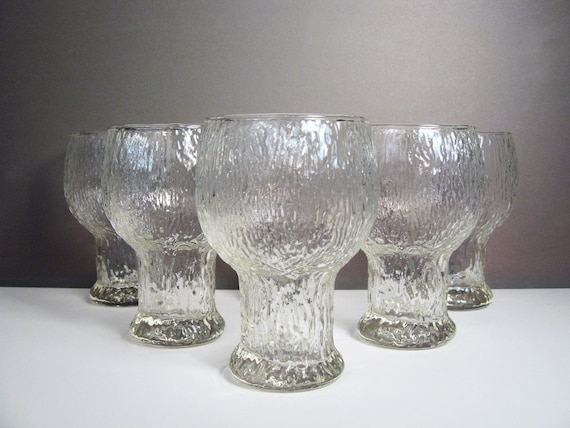 Until very recently, we used imitation Kekkerit goblets for our everyday water glasses. Â Our friend Valentina, who runs the Etsy shop Object of Beauty is currently selling the same glasses and has graciously let us borrow some of her images for this post. Â The Kekkerit-inspired glasses (featured in the above image) are very well made, but the pattern has some key differences from Iittala's Kekkerit, which are important to note if you're trying to tell the difference between the two. Â The glasses above do not have a rough, or faceted, finish at all, but instead have smooth-ish ripples.
A key difference between the two goblets is in the shape of the foot. Â Iittala's pattern has a square foot, which is a little unexpected for glass with such undulating lines. Â The kekkerit-inspired glasses have a much rounder foot. Â There's also a difference between the bottom of each glass: Iittala's Kekkerit has a patterned bottom, in keeping with the textured design on the body of the glass, while the imitation goblets have a smooth bottom.
The biggest difference between the two goblets is that the real Kekkerit's have a solid foot, which is easily seen when you pour dark liquid into the glass. Â This makes the real thing incredibly heavy, which is great but some people might not like it for everyday use. Â (This is one of the main reasons we used the Kekkerit-inspired goblets as our daily glasses for so long–they were light to the touch and very sturdy.) Â And no, Iittala did not make Kekkerit in an amber color (at least, none that we've ever seen)!