We went to Minnesota for a week-long trip to visit Mr. Butter's family and to get Miss S baptized. Â Since we were there for an entire week we had many a thriftbreak and even got to visit with @steveminne and @sllabstudios while we were there! Â (Apologies for the horrible photo.)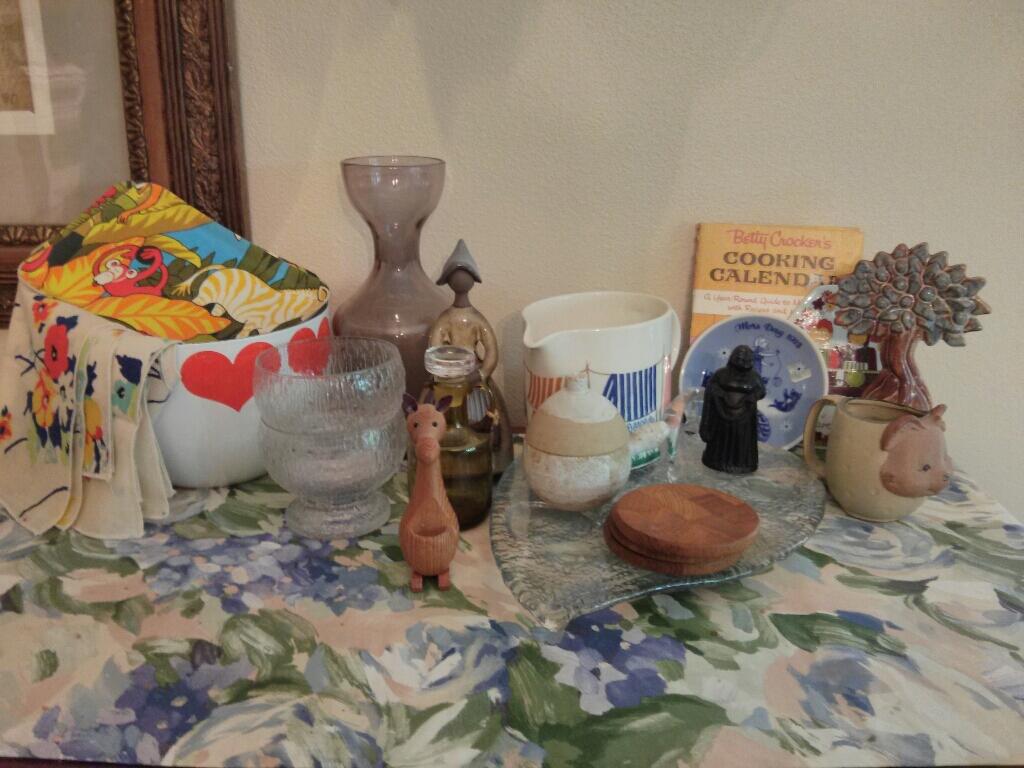 There were a TON of near-misses at the thrifts. Â We left behind a Kluk-Kluk with no stopper, a chipped Arabia pitcher, and many other almosts. Â Sadly, we made a mistake on a Joel Myers vase for Blenko and left it behind when we should have brought it home with us. Â (Le sigh.) Â But we ended up finding some great stuff, including a Blenko 5922S decanter in Lilac (missing its stopper, sadly) a Finel heart bowl (SQUEE!), and a few other lovelies, including this Arabia "Sauna" pitcher, by Gunvor Olin-Gronqvist.
The pitcher is a bit of a mystery. Â We haven't been able to find out anything about the history of this pattern, so if anyone has information about it, tell us!
We also picked up this amazing bell by David Stewart, in the same color treatment as the fish planter we found a few months back! Â From what we've been able to find out, Stewart started producing these pieces around 1980, but we've been unable to find out much information about the history of Stewart's work.
Last, but not least, is this Boda cruet, designed by Ernest Gordon. Â It was one of those pieces that you find and you're not sure that it's "anything," but you have a feeling that you should spend the $.99 and take a gamble. Â After some sleuthing, Mr. Butter was able to come up with the ID and we were vindicated! Â Seriously though, these gut feelings are just as important as a catalogue of knowledge.
We've been hard at work taking photographs of our finds, so everything in the photo will be listed in the shop in the next few days!