Posted:
June 19th, 2010 |
Author:
alison
|
Filed under:
Main Dish
,
Recipes
|
8 Comments »
Growing up in California, grilling was a year-round experience.  Here in Seattle, grilling is much more pleasant in the summer and early autumn.  This summer, sadly, the temperature hasn't gotten about 75 yet.  So this California girl stares out the window, watching it drizzle and dreams of tortilla chips and guacamole on a sunny porch, tanned legs, and clinking cocktail glasses.  Oh, it isn't all bad in Seattle, I promise.  We have beautiful springs full of cherry blossoms, but nothing will take the place of those too-hot California summers in my head.  In spite of Seattle's sunless skies, I decided that I was barbecuing, even if it was pouring outside.  I invited friends, who brought over yummy vegetables to grill, and I decided to try Phyllis Diller's recipe for barbecued chicken.
It's a simple recipe for barbecue sauce, but it was tangy, spicy, sweet, and received rave reviews from the entire group.  A few recipe notes: I used ketchup that had no high-fructose corn syrup and, instead of hot pepper sauce, I used 4 liberal squirts of sriracha since I like my barbecue sauce on the spicy side.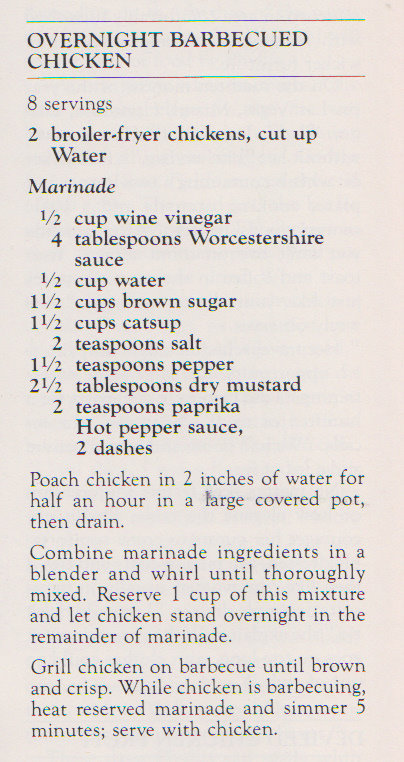 So, while Seattle doesn't have many sunny days, I can still eat barbecued chicken and lick my fingers like I did during my childhood.  And this time, my mother wasn't there to give me the "you're being rude at the dinner table" look!
---